We had a quick surprise graduation party for Shelly who graduated from Massage Therapy school this week. Breakfast cookies were on the menu, so here's the recipe. And congratulations to Shelly for her accomplishment.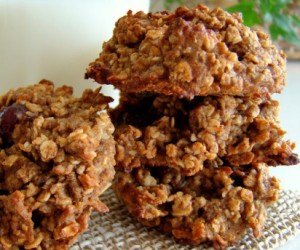 There are so many recipes online that contain fruit, nuts, eggs, peanut butter and other great stuff, so try them all. This is the recipe that Leslie used:
Mix together:
6 TBL fat (any combination of oil, butter, shortening, etc)
1/2 C granulated sugar (any combination of brown or white sugar)
1/2 C honey (some of this could be molasses)
2 eggs
Stir in dry ingredients:
1 C wheat flour
1/2 C white flour
1/2 C wheat germ (or get creative with a substitute)
2 1/2C rolled oats
1 tsp soda
1/2 tsp salt
1/2 tsp cinnamon
1//2 tsp pumpkin pie spice (or get creative with a substitute)
1 tsp vanilla
After all the wet and dry ingredients are mixed together, add your favorite things like:
raisins, choc chips, dried cranberries, nuts, seeds, coconut, etc.
350 degrees at 10-12 min.
The picture is not mine, but comes from Marg Thank you. You could try her cookie recipe too.